Lola's Sugar Rush Says Farewell To Historic Downtown Littleton After Seven Sweet Years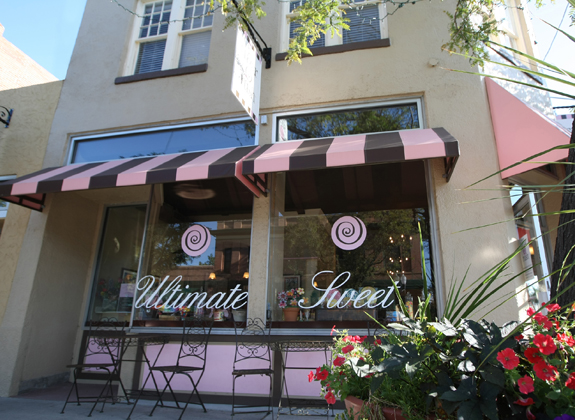 After seven sweet years on Main Street, Lola's Sugar Rush today announced that Wednesday, Dec. 30, 2015 will mark the shoppe's last day of selling candy and sweets to the young and young at heart. Founded in April 2009 by Lola Salazar, the whimsical and elegant retro candy store has been a staple on Historic Downtown Littleton's Main Street for nearly seven years. Salazar is closing the shoppe at the end of the holiday season to focus on managing the charitable giving activities of Salazar Family Foundation (http://www.salazarfamilyfoundation.org/), a Denver-based foundation she founded with her husband Rob in 1999.
Born and raised in Denver, Salazar has always had a sweet tooth which earned her the nickname "Sugar" as a child. Lola's Sugar Rush is the realization of her dream to recreate the nostalgia of the candy shops she visited with her family as a girl, a place that held many sweet memories. Over the years Lola's Sugar Rush has garnered much local and national recognition, including being named one of 2015's "America's Best Candy Shops" by Travel + Leisure (http://www.travelandleisure.com/articles/americas-best-ca…), being featured on Food Network's "Unwrapped," the Cooking Channel's "Grubsessed," and receiving many local recognitions including being named a Talk of the Town and Denver's 7 A-List winner. The shoppe has been an icon on Main Street and has been a favorite spot for countless families and individuals over the past six years, with several celebrity guests, including Second Lady Dr. Jill Biden, among others.
"I created Lola's Sugar Rush to show my children that you can turn your dreams into reality; that anything is possible with hard work and a vision," stated Salazar. "We love our customers dearly and have made many sweet memories at Lola's Sugar Rush, but the time has come for me to focus on my family and giving back to the community through the efforts of the Salazar Family Foundation."
Salazar has always placed high importance on giving back to her community and the shoppe has donated gift baskets to at least four nonprofits every single month since it opened and hosted numerous charity events to support local non-profit groups. She started the Salazar Family Foundation with her husband with the mission of giving back to the community and supporting organizations that are committed to improving the quality of education and students' access to it. These organizations have included The Denver Foundation, The Denver Public Schools Foundation, Escuela de Guadalupe, Mi Casa, The Latin American Educational Foundation, and The Jefferson Foundation. In partnership with these quality non-profit organizations, the Salazar Family Foundation provides educational opportunities through scholarships, literacy programs and classroom grants.
"We started the Salazar Family Foundation in order to give back to the community and organizations that supported both my husband and me throughout our childhood and our education," Lola continued. "We both grew up in the Denver Public School system and owe our success to both DPS teachers and members of Denver's Latin community who encouraged us to work hard and realize our dreams. We are now very fortunate to have the opportunity to give back to these same organizations and community groups. I am so excited to begin my next chapter in a leadership role at the foundation."
Lola's Sugar Rush will continue normal business hours and operations through Wednesday, Dec. 30, 2015. As part of the shoppe's farewell celebration, a portion of all sales on Sundays in December will be donated to local charities that the Salazar Family Foundation is currently supporting. For more information on Lola's Sugar Rush, visit www.lolassugarrush.com or on Facebook @LolaSugarRush (http://www.facebook.com/lolasugarrush). For more information on the Salazar Family Foundation, visit www.salazarfamilyfoundation.org.